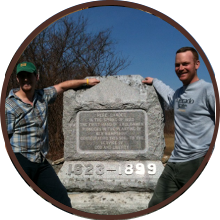 Welcome to the first Community Supported Brewery (CSB), 7th Settlement Brewery in Dover, NH! We are working to support a local economy with socially and environmentally responsible, and of course the best tasting beer.
We're opening this coming Summer! Support the launch of our brewery, be a part of our story, and get a great deal on our beer once it's ready!
Come join our community connecting on the New Hampshire Seacoast, purchase your share, and never forget,
Don't buy beer from strangers!
Josh and Dave